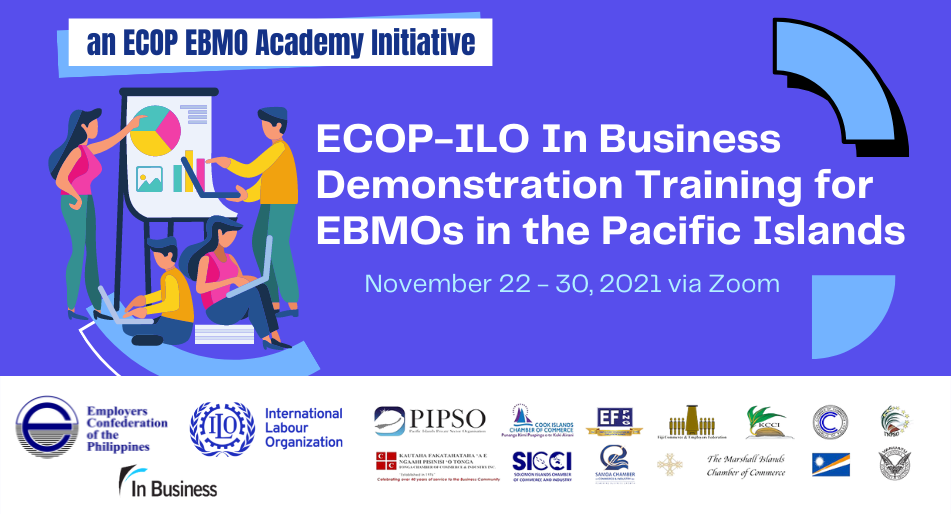 IN BUSINESS Soft Skills Training - Demonstration Program for the Pacific Private Sector
IN BUSINESS is an innovative training program designed by the International Labour Organization (ILO) to support Employer and Business Membership Organizations (EBMO)in extending services to member companies - large and small. The program's innovation comes from its activity-based, group learning methodology which is low cost and easy to implement at scale. No trained trainer or subject matter expert is required for services to be delivered, instead participants work together in small groups and support each to complete a series of activities and discussions designed by the ILO to strengthen capacities in different areas. The training can be delivered as an in-person or online service and each module typically takes no more than 3 hours to complete. Thousands have now been trained from some of the world's most well-known international brands to small enterprises operating in survival mode. 
The Employers Confederation of the Philippines (ECOP)
The Employers Confederation of the Philippines has been delivering the IN BUSINESS programme since 2015 through a model which includes capacity building of member associations to extend the service and through direct service provision to member companies. Since 2020 ECOP has provided blended or full online IN BUSINESS training through the ECOP eCampus with the soft skills topics proving very popular. As the region's leading experts on the IN BUSINESS program, ECOP is committed to sharing its expertise and experience with other EBMOs in Asia and the Pacific for them to design and launch their own national programs.
Soft Skills Development Program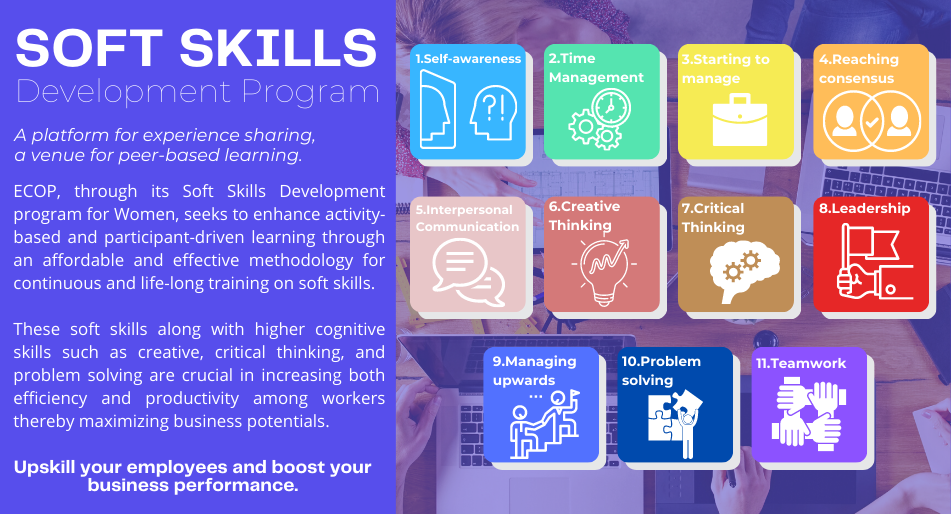 Objective of the demonstration program
Pacific EBMOs have requested ILO support to introduce the IN BUSINESS programme to the Pacific private sector. In response to this demand, a series of pilot trainings using the soft skills modules has been organized with ECOP taking the lead. The training demonstrations will provide an opportunity for EBMO representatives and selected member companies to get more familiar with the training methodology and its delivery using an online platform. Individual participants will also strengthen their core soft skills and competencies in different areas.
11 topics will be offered in this first demonstration series, with up to 14 participants being accommodated in each session. More information on the specific topics can be
found here
. Participation is open to any EBMO representative or member of the private sector in the Pacific. Following the training, participants will be requested to provide feedback via an evaluation survey with the results used to inform the design of programs to be launched by Pacific EBMO in 2022 using the
Pacific eCampus
. 
To register for this training program, click here.